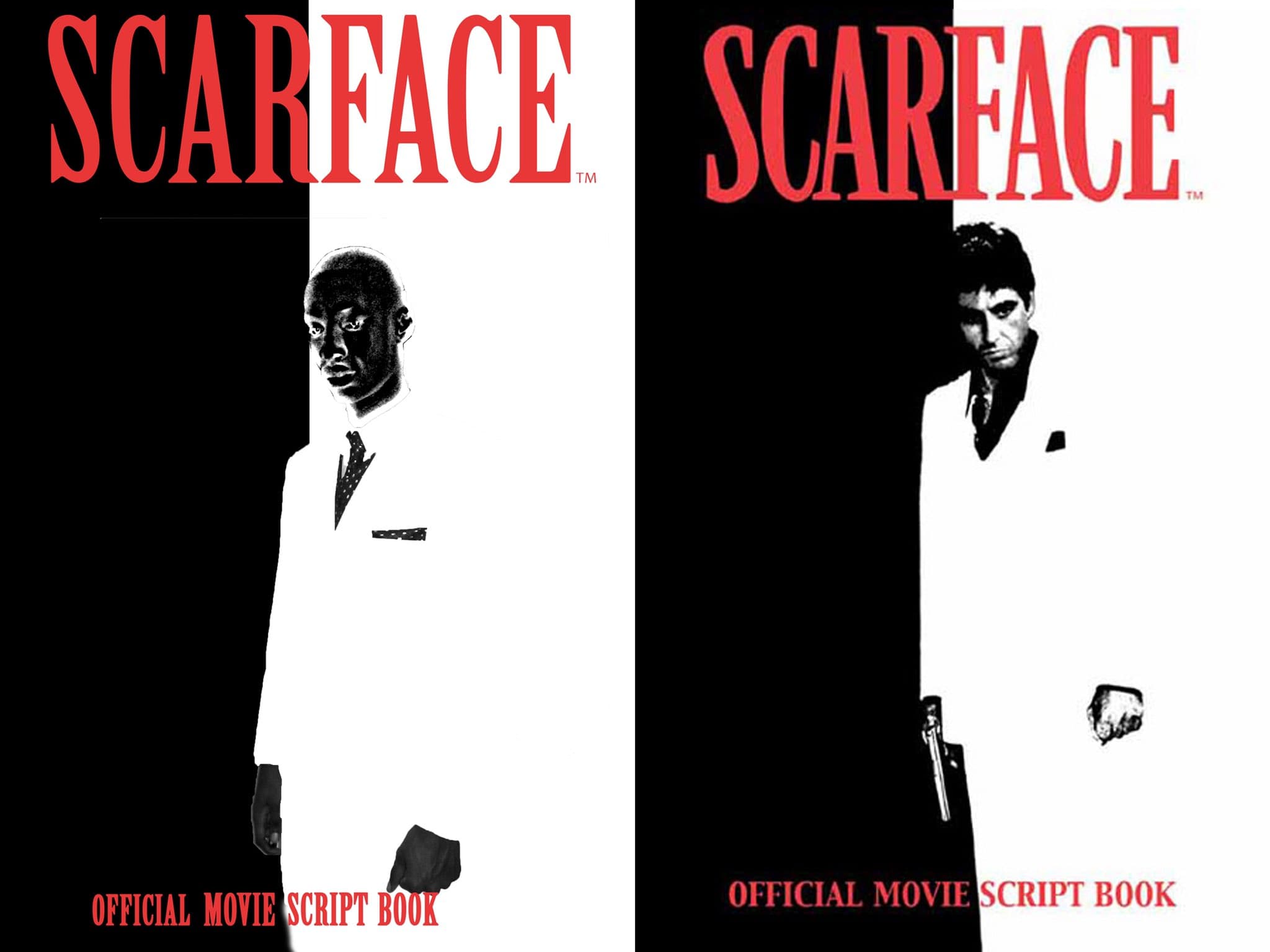 I did my first piece of design work back when I was 15 and inspired by what could be done with Adobe Photoshop. At the time I was fascinated by the movie Scarface, mimicking Al Pacino's rendition of Tony Montana down Central Foundation Boys School hallways.
My fascination didn't stop there. The movie's poster grasped me in a way that has left me with a feeling to this day. The sheer simplicity of the black and white tones masked around the movie's protagonist creating a silhouette with just the movie title above, left me in awe. *mouth drop*
I wanted to experiment with how to create silhouetted figures with minimal shapes. I was lucky enough at the time to have discovered free "private" WiFi and WiFi dongles, which, back then, nobody knew about using the two together (the good ol' days of non-secure WiFi connections).
You see, my family couldn't afford to pay for internet at the time (it's weird to think something so synonymous today was not deemed a necessity back then), but I understood what a dongle was and was dexterous with how we "used it" (dangled by the windowsill for maximum range).
I lived by what is now known as "Silicon Roundabout" in London, so it would make sense for this place to be the first to explore WiFi technology.
Nobody encrypted their WiFi connections back then, which was really good for me because it was about the time YouTube was becoming viral.
All I wanted to do was learn how to make a Scarface poster. I had this penchant drive to learn for no particular reason but to quench this thirst for being able to make something and experiment with the ideas in my mind.
It's where I stumbled upon Adobe Photoshop and manipulated photos. I quickly got exposed to Adobe Illustrator and vector graphics, which lead me down the path of making my own logo, after following various blog tutorials on how to create certain logo effects.
Every time I wanted to acquire a new skill or advance it in a certain area, that same drive would push me to go and do it. I just wanted to be able to actualise the ideas in my head and not being able to do that felt more devastating than living at times.
That moment, back when I was trying to make a movie poster, was the birth of what would become my career...
Designing, writing, animating, drawing, and coding, all started because I wanted to see if I could make something that brought me happiness and self-fulfilment at an early age.
It would only remain dormant in me for a couple more years of neglecting it and then bubble underneath the surface when I got to uni.
The trajectory that it put me in, it's crazy to think that it's all because of a movie poster...